About
About The Chapter
Dr. Silberger serves as the official representative of the College for the Oregon Chapter, providing a link between members at the local level and leadership at the national level. To learn more about Dr. Silberger, read her bio.
From the Governor
Governor's Welcome
Dear Colleagues,
Greetings! And welcome to the ACP Oregon Chapter website!
The American College of Physicians, founded in 1915, is the nation's largest medical specialty organization. Membership comprises 161,000 internal medicine physicians, trainees, and medical students around the country and around the world.
Internal medicine physicians – doctors for adults – are joined by ACP in a professional family which speaks for Internal Medicine, reflecting the interests and concerns of our specialty. If you are an Internal medicine physician in Oregon, but are not yet an ACP member, I invite you to browse the Oregon Chapter's site to learn more about the College and our activities.
The Oregon Chapter is growing with over 1,848 members. Our Chapter has a rich history of supporting the goals of the ACP to promote better patient care by providing education and a professional community, and by informing policy makers, patients, and fellow physicians about issues affecting the environment of healthcare.
My hope is that this site makes it easy for you to learn about and participate in the activities of our Oregon Chapter. I encourage you to be an active member of our Chapter.
As Governor of the Oregon Chapter, I have the responsibility of representing our Chapter to the national organization; encouraging internists in our state to become members and members to advance to Fellowship; recognizing members; encouraging input and action on national and local political issues affecting the environment of internal medicine; hosting local scientific meetings and CME events; and encouraging medical student members and Resident/Fellows to participate in local and national College activities.
I am proud to represent the Oregon Chapter and always enjoy the opportunity of meeting the talented and dedicated internists in our state.
This site represents our link to internists in Oregon and the nation and will keep you updated on our activities. Check the site for names and addresses so that you can contact me, other Chapter leaders, and fellow chapter members as the need arises.
If you have ideas for useful information we could include on this site or more importantly – how the Chapter can enhance your professional life – I would like to hear from you. Send me an e-mail at jennysilberger@gmail.com or contact  our Executive Director at 866.460.5880; office@oregonacp.org
I look forward to seeing you at an upcoming event, at the Chapter's Annual Scientific Meeting in the Fall, or at the national Internal Medicine Meeting.
Sincerely,
Jenny Silberger MD, FACP
Governor, ACP Oregon Chapter
Please Welcome our 2023 Fellows!
Nicolette O Rosendahl, DO FACP  
Mengyu Zhou, MD FACP  
Sonam Kiwalkar, MD FACP  
Nicholas Nelson MD FACP  
Bhaskar Ongole, MBBS FACP  
Jacob P Casey, MD FACP  
Richard L Hsu, MD FACP  
Kevin M Piro, MD FACP  
Arun Thekkekarott Kuruvila, MBBS, MD FACP  
Joel Burnett, MD FACP  
Laura K Byerly, MD FACP  
Adama Diarra, DO FACP  
Robert G Fojtasek, MD FACP  
Paula A Folger, MD FACP  
Jill R Hansen, MD FACP  
Xiaoyan Huang, MD FACP  
Robert L Jones, MD FACP  
Joshua D Jones, MD FACP  
Briana N Ketterer, MD FACP  
Kaleb Keyserling, MD FACP  
Abigail Lenhart, MD FACP  
Bailey Pope, MD FACP  
Hannah Iris Rose, MD FACP  
Matthew Wiest, DO FACP  
Jane M Zhu, MD FACP 
Congratulations to Oregon leaders who were honored as Advocates for Internal Medicine!
During Leadership Day in Washington, D. C. this past may, our leaders Dr. Joel Burnett, Dr. Kelsi Manley, Dr. Logan Jones, and Dr. Adam Obley received special recognition from ACP as Advocates for Internal Medicine for their advocacy work on the state and national levels. Oregon's Advocacy Day and Advocacy Efforts are noticed nation wide – we appreciate their commitment that has put us on the map! 
2023 Annual Internal Medicine Conference Successes!
Congratulations to Dr. Doug Rice, Dr. Arjun Pande, and Dr. Gabriel Monti for placing first in the nation in Doctors Dilemma at the Annual Internal Medicine Meeting in San Diego! Oregon is proud to have secured first place in the nation!
Congratulations to Dr. Avi O'Glasser who was awarded the Walter J. McDonald Award for Early Career Physicians.
This award recognizes outstanding achievement by a physician member who is within 16 years of graduating medical school. 
Congratulations to Medical Student Emily Burney
Emily won first place for her poster "Assessment of Barriers to Dual Language Prescription Translation at a Portland Federally Qualified Health Center" at the national meeting. We are very proud of Emily! 
Congratulation to Arjun Panda, Gabriel Monti, and Doug Rice for coming in first place in the 2023 Doctors Dilemma! 
3 Oregon Chapter members win awards at 2021 ACP National Abstract Competition
Congratulations to the following Oregon members for their award-winning posters and virtual presentations:
Medical Students
Evan J Barnes – "Secondary fusions as a mechanism of BCR-ABL1 kinase-independent resistance in chronic myeloid leukemia" (Virtual Presentation category)
Kristen McClellan – "A Rare Cause of Chronic Diarrhea" (ePoster category)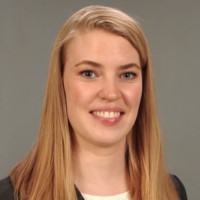 Resident/Fellow
Simone E Dekker, MD, PhD (pictured left) – "The pain of PCA pumps: Patient-controlled analgesia error in EMR" (ePoster category)
Oregon Chapter receives 2022 Chapter Excellence Gold Award
We are pleased to announce that our chapter is in receipt of the Gold Level of the 2021 Chapter Excellence Award! The award recognizes truly extraordinary chapters that surpass excellence in chapter management.  Thank you to those chapter members who assisted us in all of these endeavors! For their hard work and dedication, we received this award.
5727 Baker Way NW
Suite 200
+1 877 460 5880
office@oregonacp.org